This is an action-oriented initiative, designed for individuals and groups who are ready to "roll up their sleeves" and get to work. We have a platform that is continually evolving and will continue to develop and improve with your help. The aim and rationale of the hackathon is to mobilize the sleeping giant of "the commons" through creating collaborative, scalable processes for a planet of innovators to help solve global challenges through local initiatives.
ENVIENTA is offering their platform, which will launch soon to the open-source community, in order to create regenerative technological solutions for issues in any part of the world organized through online and local hackathons on an ongoing basis. We can each make a meaningful contribution to the development of alternative solutions that can be scaled up and creatively applied to many sectors in order to create a regenerative society that works for all. We invite you to become a signatory and actively support #HackHumanity.
We have initiated 12 themes to hack at Regenerative Hackathons. Each of these is a sector that we can create a solution and/or tool for. We are referring to them as 12 fields of Regenerative Development Goals.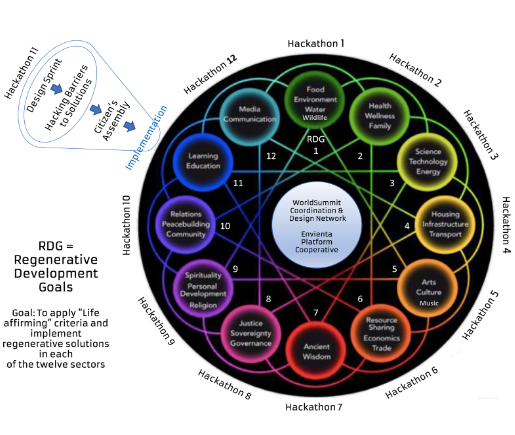 However, before we start addressing these sectors & goals we will commence with "Hackathon Zero" in order to establish an operational IT back-end enabling us to begin the hackathon serial #hackhumanity. Our Hackathon ZERO team is looking for new members including people with prior experience with open source projects. If you are interested in participating please subscribe which will link you with the peer community currently working on the IT carrier of the #hackhumanity hackathons: https://hackhumanity.net/ and / or Join our FB group: https://www.facebook.com/groups/1606603429482634/about/
If you are organizing a Hackathon please contact us so we can map, connect and promote your activities :).
We are looking forward to meeting and cooperating with you!
NONE OF US CAN SAVE THE WORLD ALONE, BUT WE CAN EACH MAKE OUR CONTRIBUTIONS THAT CAN BE SCALED UP TO CREATE A REGENERATIVE SOCIETY.
#HackHumanity