Welcome to this portal to support the creation of a Movement of Movements ;-). Although that might sound pretty abstract, we believe that people will appreciate the value of what we are doing if they understand the importance of networking for enabling humanity to find a path forward at this critical point in our collective evolution.
We need to engage in shared leadership and work together as part of a global team. No matter which project, platform or organisations people are active in (within the three pillars of activism) they/we are in the process of converging together into a united stream moving us towards a positive future. WorldSummit is mainly focussing on making these transition processes visible so that we can give appropriate support and have a better understanding of the complex interrelated factors within society, all of which are having an influence upon our lives and will play a role in shaping our future.

A summary of WorldSummit and HackHumanity's mission for people who are just getting acquainted:
WorldSummit is a coordination and design network that is mobilizing and unifying all active groups and solutions so that we can quickly reach the necessary critical mass to enable humanity's phase shift towards a new global regenerative model. HackHumanity is the Action Network that will enable us to manufacture and implement solutions locally.
WorldSummit is connecting all key-players (Networks, Movements, Organisations, Thought-leaders, Change-makers, Activists, Individuals, etc.) in the chain of the 3-Pillars in order to create a better socio-economic model for humanity. Our strategy is to make all interconnected problems, solutions and 'energies' visible, and we are creating partnerships and overarching holistic tools for that purpose.
WorldSummit Podcast > FUTURE NOW RADIO
WorldSummit Overview > Dynamic Timeline
WorldSummit > Medium
WorldSummit > Instagram
WorldSummit > Twitter
WorldSummit > YouTube
WorldSummit > Unity Paper
WorldSummit Slidedeck > TRANSITION TACTICS you can see 60 different activities and goals we can support and work towards within the Three Pillars of Activism.
WorldSummit Slidedeck > The 3-Pillars of Activism
WorldSummit Slidedeck > Mother of All Hacks
WorldSummit Slidedeck > Humanity's Phase Shift > INTEGRAL FRAMEWORK
WorldSummit Landing page > WorldSummit Movement
WorldSummit video > Humanity's Phase Shift
In 2020 we completed THE GREAT PAUSE videos we produced during Springtime and Summer under the HackHumanity banner. These videos are three out of a docu-series of more videos to come that are highlighting the importance of letting go of the outdated systems and the new ones that are now evolving.
HackHumanity Website > https://hackhumanity.net
HackHumanity > YouTube
HackHumanity VIDEO > THE GREAT PAUSE PART ONE – A REVOLUTION IN LIFESTYLE
HackHumanity VIDEO > THE GREAT PAUSE PART TWO – WHY WE CANNOT GO BACK TO NORMAL
HackHumanity VIDEO > THE GREAT PAUSE PART THREE – BLACK LIVES MATTER & THREE PILLARS OF ACTIVISM
IN CASE THINGS SPEED UP GLOBALLY > TRANSITION TACTICS
In previous slide decks entitled the Three Pillars of Activism and the Mother of All Hacks, we proposed a model for transformative change to a regenerative society. Now we are proposing the further collective development and implementation of what we are calling Transition Tactics…these are things we are beginning to do NOW in all three pillars to meet the Regenerative Development Goals (RDGs) and the Superordinate Goal of meeting everyone's basic needs. All of the following 60+ Transition Tactics are critically important, but we emphasise TEN of the most urgent/impactful RDGs that are possible and already happening right now.
WATCH OUR FULL PRESENTATION HUMANITY'S PHASE SHIFT (28min)
GO THROUGH HUMANITY'S PHASE SHIFT SLIDE-DECK
GO THROUGH 3-PILLARS OF ACTIVISM SLIDE-DECK
GO THROUGH THE MOTHER OF ALL HACKS SLIDEDECK
GO THROUGH TRANSITION TACTICS SLIDEDECK
WorldSummit PARTNERS / PROJECTS
ENVIENTA – Open Source Everything
ORIGIN > 12 sector Wheel of Synergy
SYNERGY HUB NETWORK > Key Learnings
Synergy Hubs we met on our road >
https://www.atma.life/ – https://www.zurichretreat.com/
https://www.greenearthvision.org/full-potential-synergy-hub
https://www.nestcoworking.com.mx/en/
https://www.thegoldencities.com/s/discover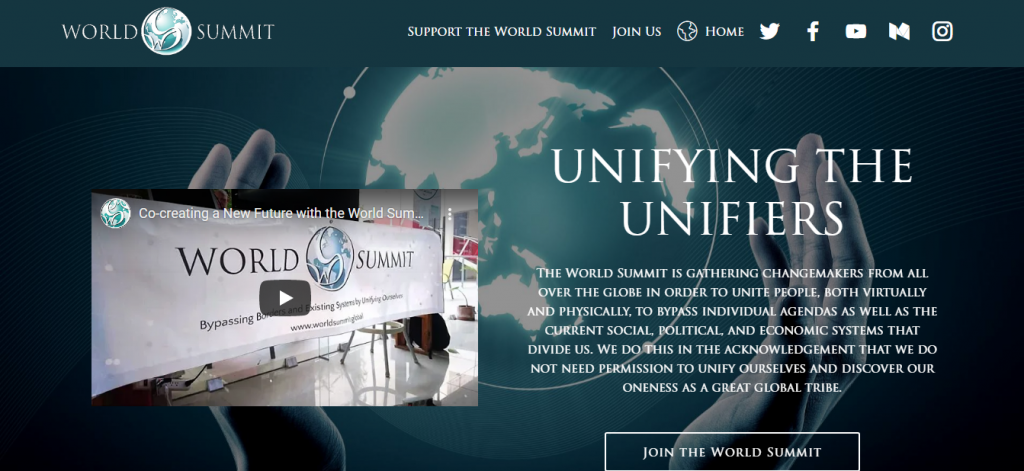 The WorldSummit Unity Paper (Whitepaper) is available for interested Organisations, Sponsors / Funders & Partners. Please email us at unity@hackhumanity.net if you would like to engage in any way.
We are open source biased so NO Copyright © here 🙂 | 2021 / 2022 | WorldSummit Movement / HackHumanity |
All rights are free.
Our mailing address is: unity@hackhumanity.net